Hi! Thank you so much for stopping by my blog, The Vintage Barn! Here, I hope you will find inspiration to start tackling projects in your home, making delicious home made meals and goodies (probably more goodies than meals) and read about our life on the dairy!
Through making our house our home...I am finding that I LOVE to decorate. I love it even MORE...when I can do it inexpensively (doesn't that sound better than cheap?!?!) Who cares? Cheap is good...nothing wrong with saving money for a rainy day (or preschool tuition, gymnastics fee, groceries and diapers, right? Not to mention gas these days...oh, the price of gas!)
I am NOT a professional journalist or an interior designer. I am a wife, stay at home mommy to two sweet girls and an "I think I can figure out a better/cheaper way to do that" kind of a girl. Don't get me wrong...I LOVE shopping. But, I just find it really satisfying to get my decorating idea going in my head...and gather things here (thrift shop/yard sale) and there (ranch/old barns.)
Here, I hope to help you gather ideas for your home. I love to refinish vintage furniture...you will find lots of post about that. Step by steps, painting techniques and materials and lots of pictures. You can also find some of my pieces I sell at my shop, www.thevintagebarn.etsy.com . While at my Etsy shop you will also find some natural cotton and burlap table runners and pillows that are hand made (with love) by me.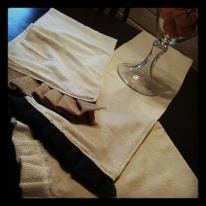 A few of my hand made table runners...
A quick chair makeover...
Personalized Canvas Pillows...
Having my own store someday is a dream of mine. Definitely a dream...but...like Walt Disney said "if you dream it, you can do it!
Well, come on...we have work to do!