I normally do not keep everything...really, I don't. My husband is pretty good about reminding me that I don't need to keep everything. Some things you just can't let go!
I have been wanting to find a different dining set for a while now. I love the farmhouse style of a wood top with a creamy white bottom. It has taken years...but, I finally stumbled on the right one.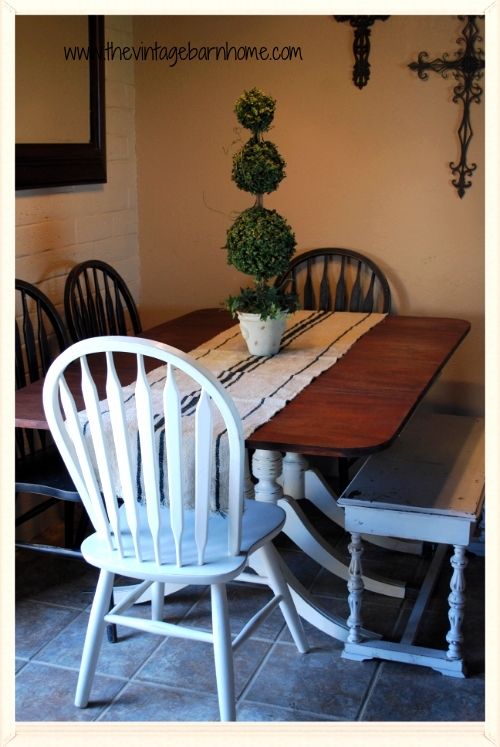 The sunlight from our sliding glass door is perfect lighting for brightening
up this little corner of our living room. Yep, you read that right...our dining table is in the
back corner of our living room. This farmhouse doesn't have a formal dining room...
no problem for me...I made one!
LOVE her legs...
This was another yard sale find...hidden deep in the backyard. Though, they had really nice woodworking tools and my husband found some things he needed for his shop...I was coming up empty. Until...the homeowner said "Well, you may like this table in the backyard."
Yes, yes I DO like this table!
They said they were just going to throw THIS table in the burn pile! OUCH!
I brought her home...cleaned her up...
Another one that I think I HAVE to keep..our black pedestal dining set is now for sale!
I am headed to a friend's house hopefully tomorrow for chairs she said will just need a little TLC.
I can do that.
That antique piano bench was a birthday gift to me from my mom on my 18th birthday...I think?
Isn't it cute? As soon as I have a minute (ha!) I am going to paint the bench the creamy white.
My little make shift "dining room" is starting to come together!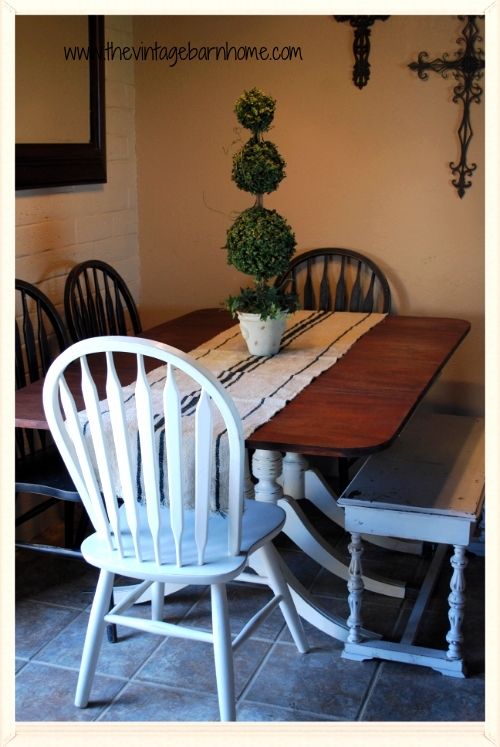 Here are the chairs I found for ($20! Real Wood...all 4!) the table now.
I just LOVE this table for so many reasons.
Most importantly...it gives us more room.
This table fits our Farmhouse Style.
I LOVE that I can use the piano bench my mom bought me...the girls love to sit there!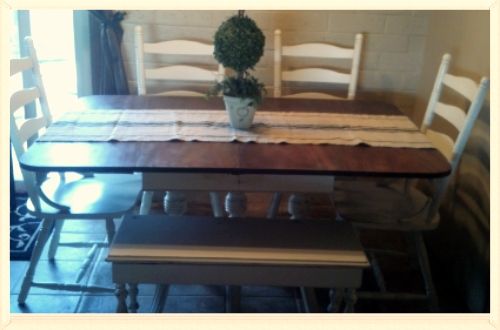 I am off to finish a buffet for a girl friend of mine in TURQUOISE!!!
Can't wait to show you next week...
Come back TOMORROW for a FABULOUS Linky Party co-hosted by ME with Stacey from
you WILL NOT want to miss this!!!!!
Linking up to and PartYinG with: