It has been a BUSY few weeks around here. Our Fancy Flea Market was last Friday and Saturday...and this Saturday I am headed to Salinas, CA (a couple hours away) for another show.
I have never done back to back shows...it is a bit exhausting!
As I was frantically finishing up furniture, cleaning display pieces and loading furniture last week...
I noticed this sweet helper in the background. She is "quality control" here at The Vintage Barn!
Cows are SO curious! This is in our driveway...I TOLD you I lived smack dab in the middle of the dairy!

That is my sweet little nightstand...my friend bought if for her daughter's room.
They will be moving soon...and I told her I wanted to see a picture of it in her room!


I am NOT a professional photographer...not EVEN close!
BUT, I ABSOLUTELY LOVE this picture!!!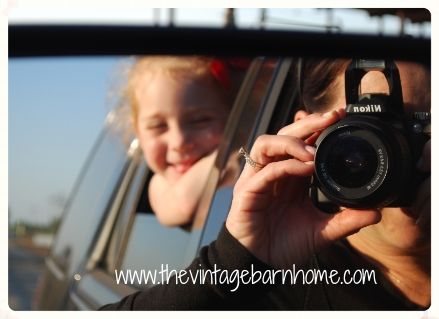 I snapped this via my door mirror...and caught Natalie with a cute smile. Warms my heart!
We were driving around the dairy the other day..just "checking on things" as Nat calls it. I grabbed
my camera...and was practicing with it.
I know Natalie is not in her car seat...but, don't worry...we were in the "feed lane" NOT the "fast lane!"
I hope you are having a wonderful week!!!
MONDAY:
TUESDAY:
WEDNESDAY:
THURSDAY:
FRIDAY:
SATURDAY:
SUNDAY: